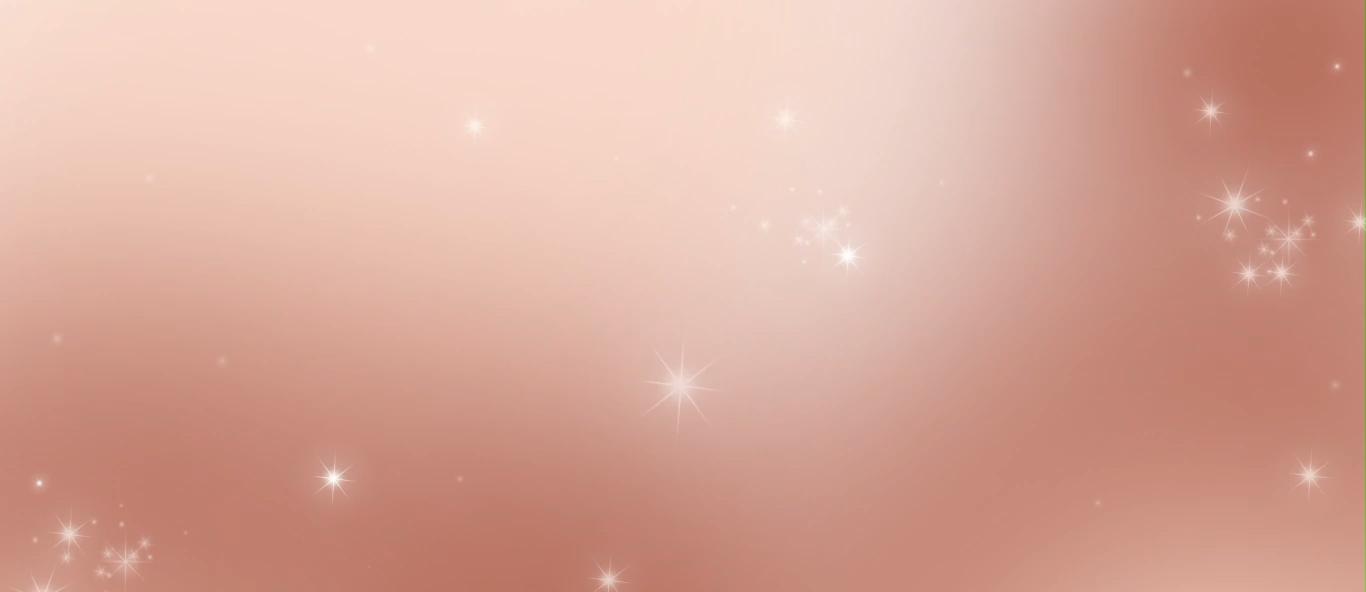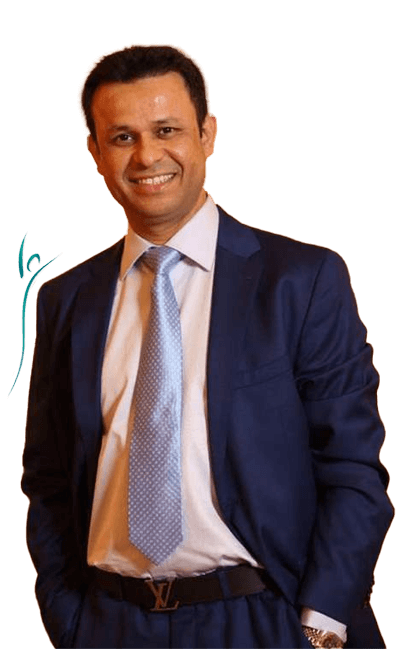 Dr. Hasan Ali -
Excellence Meets Perfection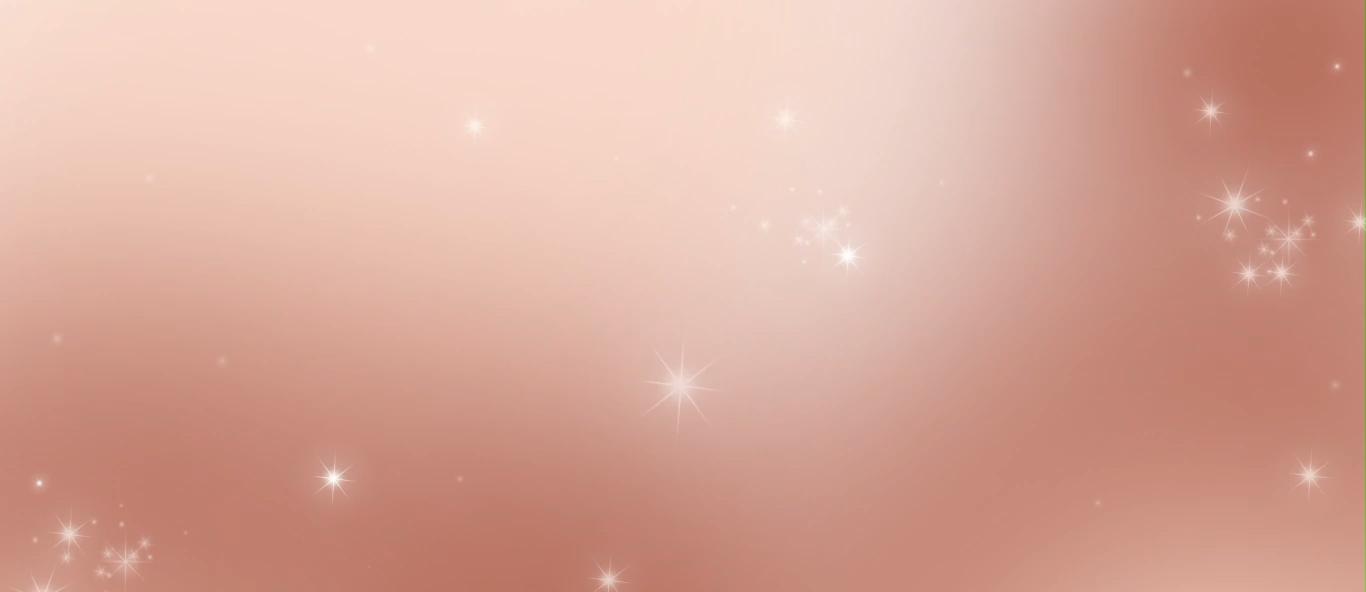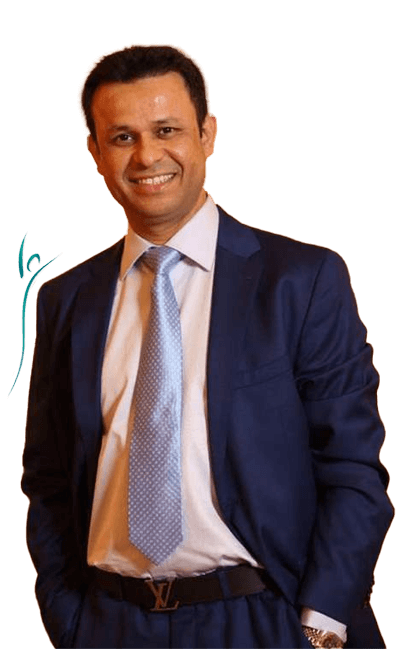 Dr. Hasan Ali -
Excellence Meets
Perfection

Your Search For The Best Liposuction
Surgeon In London Ends With Dr. Hasan Ali
Dr. Hasan Ali – Plastic Surgeon
Medical Director & Founder of Hasan Surgery
AWARDS / CERTIFICATIONS / RECOGNITION GALLERY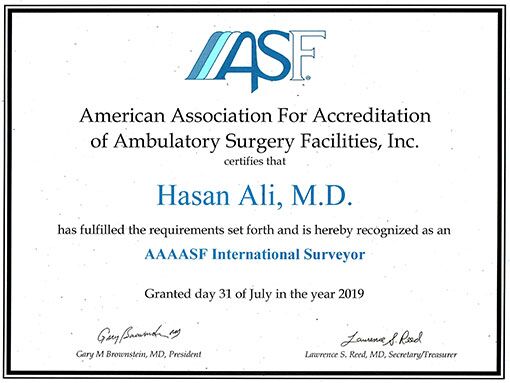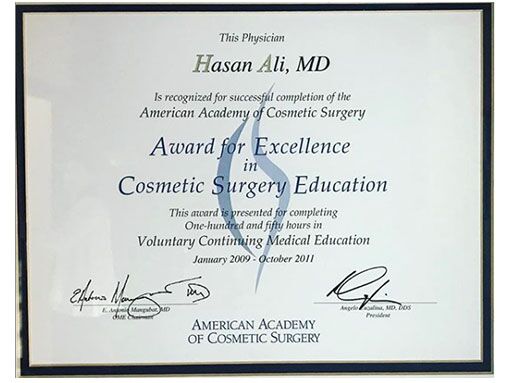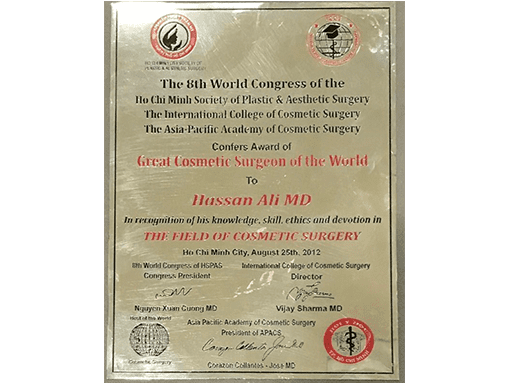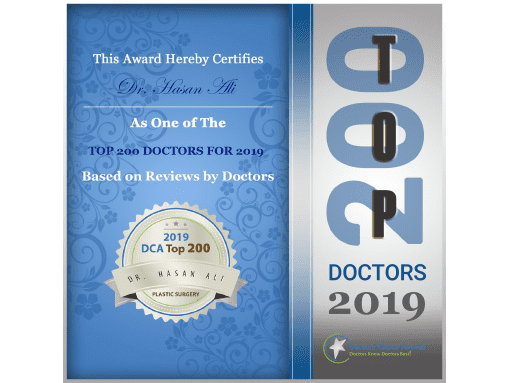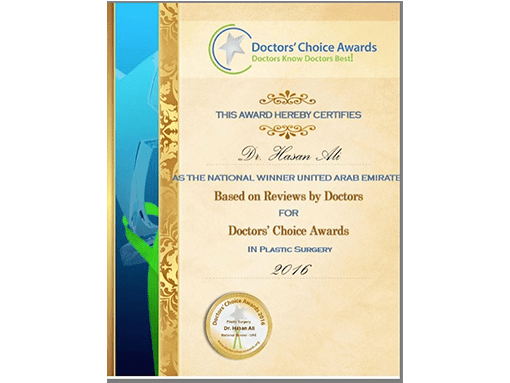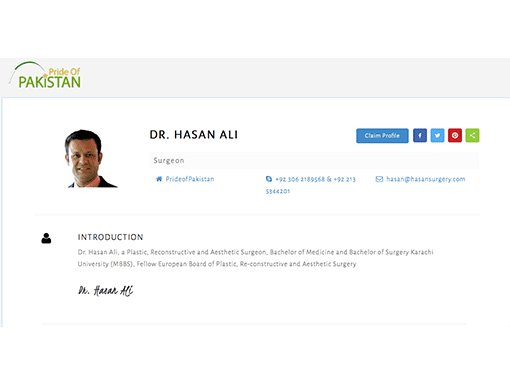 QUALIFICATIONS
MBBS, MSC (UK), MRCS (UK)
EBOPRAS (France), FICS (USA)
PRACTICE OFFICES
London, UK
Dubai, UAE
Riyadh, KSA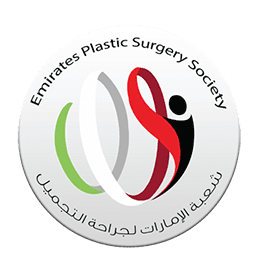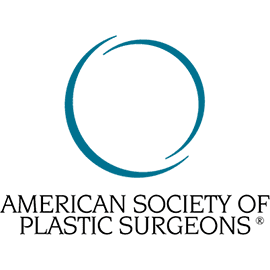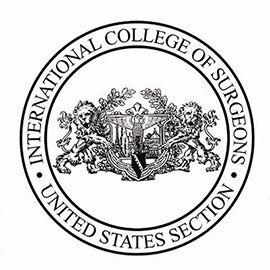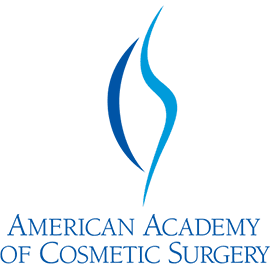 Great Cosmetic Surgeon of the World Award by Asia Pacific Academy of Cosmetic Surgery, USA (2012)
Award for Excellence in Cosmetic Surgery Education by American Academy of Cosmetic Surgery, USA (2009 – 2011)
Doctors Choice Awards (DCA) (2016, 2017, 2019)
Dr. Hasan Ali received his medical degree with distinction in surgery and many other subjects.
He obtained his postgraduate qualifications from the Royal College of Physicians and Surgeons Glasgow U.K, European Boards in Plastic Surgery from France, Fellow International College of Surgeons USA, and Masters in Aesthetic Plastic Surgery from University of London, UK.
He has worked in the past as a Clinical Assistant Professor in plastic surgery at Baqai Medical University Hospital, Karachi, Consultant Plastic Surgeon at Ziauddin Medical University Hospital, Karachi, Pakistan, and Dr. Sulaiman Al Habib Medical Group of Hospitals, Riyadh, Saudi Arabia.
Dr. Hasan Ali is an accomplished plastic surgeon, specialized in reconstructive and aesthetic surgeries. He is the founder and Medical Director of Hasan Surgery – a plastic, reconstructive, and aesthetic surgery clinic located in Harley Street, London, UK and in Dubai Healthcare City, Dubai, UAE. He is also a visiting plastic surgeon in Riyadh, Saudi Arabia.
He has 20+ years of experience from 5,000+ surgeries – working across the world – in London, Dubai, Karachi, and Riyadh.
He is considered one of the best liposuction surgeons in London and he has truly mastered the art of VASER-assisted liposuction. A recognized master of advanced body contouring procedures such as VASER high definition liposuction procedures, and 3D/ 4D body contouring procedures – even fellow doctors bear testimony to his skill as the best VASER liposuction surgeon in London & UK. Besides being counted among the best liposuction surgeons in UK, Dr. Hasan Ali is also regarded as one of the best, if not, the best gynecomastia surgeon in London.
Dr. Hasan Ali has been utilizing VASER since 2007 and has trained dozens of plastic surgeons in the use of VASER – from basic to highly advanced courses.
Dr. Hasan Ali is recognized as an international surveyor for the American Association For Accreditation of Ambulatory Surgical Facilities (AAAASF).
Dr. Hasan Ali holds a current license to practice and perform surgery in UK, Ireland, Dubai, Saudi Arabia, and Pakistan. He has special training in body, face, and breast aesthetic surgery. Dr. Hasan Ali has often presented his research work at several international symposiums and meetings.
A SELECTION OF DR. HASAN ALI'S WORK
Being the master of his craft, Dr. Hasan Ali's expertise shows in the work that he has delivered for his clients. Be it liposuction, gynecomastia, tummy tuck, full body lift, female breast surgeries, buttock augmentation, 4D hi def vaser liposuction, or other advanced face and body sculpting procedures – you'll see the hallmark of excellence in his work.
FEEDBACK FROM CLIENTS ABOUT
DR. HASAN ALI's WORK
Dr. Hasan Ali is a patient favorite. And that's NOT only because of his unmatched professionalism and the quality of his work as a cosmetic and aesthetic surgeon. Importantly, it's because he genuinely cares for his clients and that clearly reflects in his every interaction with them. The considered advice that he gives them, the utter regard for patient safety, his meticulous before and after-care – these are attributes that clients value highly – in addition to their satisfaction from the results of their surgery. The combination of these – skillset and mindset – is what has led him to be where he is today – at the peak of his profession.
CLIENT FEEDBACK
I had Fat Grafting Surgery with Dr. Hassan. It was my best experience in my first surgery. Especially with him, He is so friendly person that made obliged on using them again. very knowlegable and listened to what i wanted. I am totally satisfied with their Great Services! and Amazing staff who make you feel so special.

- Sophia Jacob Did Fat Grafting surgery with Dr. Hasan Ali
I am very happy with my procedure, liposuction to the arms and upper back, I did not have any pain or soreness, Dr. Hasan Ali assured me that I will not feel a thing and he was right! Always available to answer any questions with a big smile! Thanks!

- Al Zaid Did liposuction with Dr. Hasan Ali
I had gynecomastia surgery with Dr. Hasan didn't feel anything during the operation. it has now been almost 1 year post-op and I am really happy with the results. It look like I had a surgery performed at all, really natural results Thank you very much Dr. Hasan.

- Rife Khan Did gynecomastia surgery with Dr. Hasan Ali
Great Team! Great Equipment! Doctor Hasan is super professional, kind and genuinely cares. The results you get for what you pay is 10/10. The follow up is amazing. One more important thing is that you don't get the feeling that they're selling you anything unnecessary for you just to get more money out of it. Great experience!

- Stefan Muntean Did VASER liposuction with Dr. Hasan Ali
I've done liposuction surgery with Dr. Hasan Ali and he is really professional in liposuction surgeries and supportive to his patients before and after surgery, I preferred to do this procedure with Dr. Hasan due to his long experience in liposuction and l have been clarified about everything in my consultation with him, also I rate his team and clinic as 5 star facility. At the end I am happy and satisfy from the result. Thank you so much Dr. Hasan for all your efforts and wish you all the best.

- Fawzeya Ahmed Did liposuction with Dr. Hasan Ali
I highly recommend Dr. Hasan as an excellent Dr. and professional. I flew all the way from Boston to Dubai to get a big mole removed on my left cheek. I saw a surgeon here in Boston and he told me since it's deep rooted, it will leave a big scar. I wasn't sure for a long time either to remove it or not. My husband had a big cyst on his forehead for years and Dr.Hasan removed it a few years back,it didn't leave any scar and the healing was very smooth. That gave me the confidence to get my mole removed from Dr. Hasan. That's the best choice I made. I got it removed in the beginning of February and in less then 2 months my scar is almost 90% gone. My experience with Dr. Hasan gave me the confidence to get micro fat grafting on my face and under my eyes and I am happy beyond words with the results. He was very accommodating with my schedule. An exceptional surgeon who deeply cares about his patients. My results are encouraging some of my peers to go to Dubai only to get similar procedure done from Dr. Hasan. Thank you Dr. Hasan and team.

- Sana Asim Did mole removal surgery with Dr. Hasan Ali
I feel blessed I fall on Dr. hassan ad on Instagram ... i went for an appointment and it was one of the best decision I made in my life .... he took all the time required to explain the Vaser procedure ... and how it's effective and minimal damage to the tissues ... He helped me with an amazing package that I dropped the idea to travel . I had a 360 ( abdomen + stomach ) vaser procedure ..... Results are INCREDIBLE .... I wish I didn't wait so much to do this liposuction....friends and family followed my steps and went to consult dr Hassan to get the same procedure. The time for recovery is also exemplary .. by the 4th day i was able to do my normal activities ... by the 10th i was back to running and gym . the whole team is of a great support n care ... Ms kawtar thank you for very much for your kindness and follow up ... the oignon soup post operation was amazing.

- Zineb Alaoui Did VASER liposuction with Dr. Hasan Ali
You will need to book early to see Dr. Hasan Ali because I predict that he is going to have queues of patients tailing round the corner of Harley Street! I was lucky enough to meet him in Dubai where , concerned that my lips had 'disappeared' into my mouth (!), I did some extensive research and ended up at his clinic. Dr. Hasan has a wonderfully calm manner about him. He listens, reflects and then offers his opinion about the best option. His view is the result of many years of experience treating men and women in the Middle East and training colleagues working towards acreditation as plastic surgeons. I was delighted when he treated me and then told me to return in a few days once the swelling had reduced - there was hardly any - so that I would see the results and then decide whether I was happy with the outcome or thought that I would benefit from an additional dose of filler. Dr. Hasan is both patient and highly ethical - refusing to keep treating patients who might suffer from body dysmorphia disorder or see multiple interventions as the solution to their psychological problems. He is the physician that we all want to consult: experienced, knowledgeable, skilful, professional and genuinely kind.

- Niki Scheiner Did Fillers with Dr. Hasan Ali
Excellent Dr. in less then one month I lost 9 Kg by doing liposuction using vaser abdominal plasty very good job I really recommend and the price was reasonable last but not least I salute you.

- Hamad Al Mulla Did VASER Abdominoplasty (Tummy Tuck) with Dr. Hasan Ali
APPRECIATION FOR DR. HASAN ALI
FROM FELLOW DOCTORS
It really does take a significantly superior level of expertise for fellow professionals/ doctors/ surgeons to speak highly of other doctors/ surgeons. Dr. Hasan Ali is that rare plastic surgeon who is universally accepted to be a class apart. Here's some feedback from fellow doctors about Dr. Hasan, his professionalism, work ethic, and his skills.
Dr. Hasan has won many awards and accolades based on reviews and testimonials by other plastic surgeons/ doctors.
DOCTOR'S FEEDBACK
I have known Dr. Hasan for over 20 years. He is an excellent plastic surgeon. Compassionate and caring with his patients. His dedication to his work - developing state of the art techniques for the development of plastic surgery is commendable. I highly recommend him for this award.

- Dr. Farah Hasan M.D. has given 5 out of 5 star rating
Dr. Hasan is a wonderful cosmetic surgeon. I referred many patients to his clinic and I saw many of his happy patients. He has great surgical skills. His commitment to professionalism and success is remarkable.

- Dr. Tariq Dawoud has given 5 out of 5 star rating
I have known Dr. Hasan Ali as a friend and colleague for over 2 decades. He is hard working, reliable, and a caring individual who always aims for the highest standards in surgical care. I have no hesitation in recommending him for this award and wish him the best of luck.

- Dr. Sajjad Ali has given 5 out of 5 star rating
I was fortunate enough to be his class and group fellow in same Medical College. Its been around 25 years of association with him. Dr. Hasan was a keen learner and his innate ability of adapting new things and technology even in mid 90s was phenomenal. He is extremely sound in academics. He always tries to find ways and means to deliver more. He has a very skillful hand in Surgery, moreover he is also passionate at work and always willing to take over new challenges and responsibilities. I know lots of my friends who were successfully treated by Dr. Hasan Ali. If I ever want any plastic surgery, I would prefer Dr. Hasan Ali. I wish him all the best in his future endeavors. Regards

- Dr. Humayun Jaffri has given 5 out of 5 star rating
I have known Dr. Hasan Ali as a friend and colleague for over 2 decades. He is hard working, reliable, and a caring individual who always aims for the highest standards in surgical care. I have no hesitation in recommending him for this award and wish him the best of luck.

- Dr. Adnan Taher has given 5 out of 5 star rating
DR. HASAN ALI – IN THE MEDIA
Dr. Hasan Ali has been extensively featured in the media in UAE, Saudi Arabia, and Pakistan. He has been featured on TV shows – LIVE Surgery show on MBC, Dubai One TV, Abu Dhabi TV, Geo TV Nadia Khan Show, Metro TV, Sun TV, and in newspapers/ magazines – Gulf News, Al Riyadh, Arabian News, Rotana, Elite Monde, Jang, Akhbaren Jahan, and more.
Interview on TV program Emarati 2
Interview with Doctors Choice Awards (DCA) on being awarded as Top Plastic Surgeon For February & March 2016
Interviews with DoctorUna
VASER Technique for Body Contouring
Select articles from a series of articles written in 2010 by
Dr. Hasan Ali for Al Riyadh newspaper in Saudi Arabia
DR. HASAN ALI – AT KEY EVENTS
Dr. Hasan Ali Presents on Cell Treatments in Aesthetic Plastic Surgery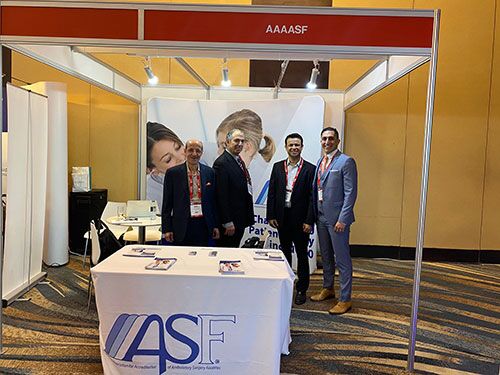 Dr. Hasan Ali with the AAAASF EPSS Congress in 2020.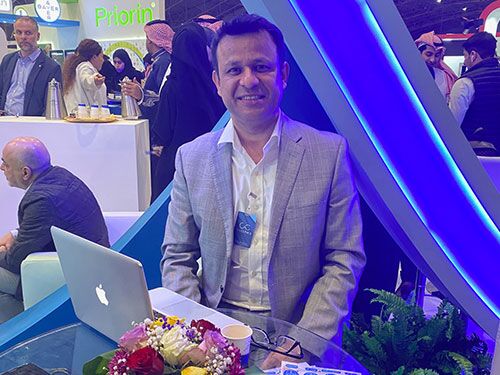 Dr. Hasan Ali as Speaker at EMF Event in Riyadh, KSA in 2020.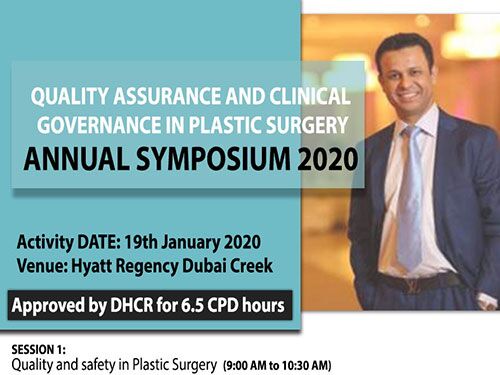 Dr. Hasan Ali as Moderator at the Annual Symposium 2020.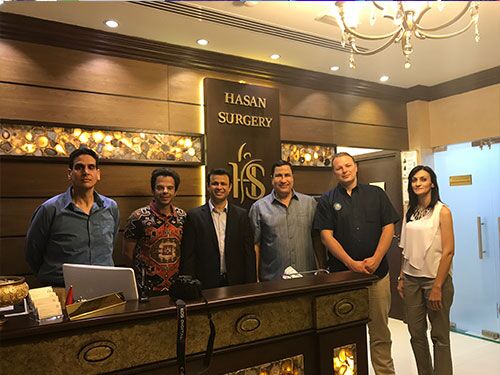 Dr. Hasan Ali – With VASER Basic to Advanced CME Course participants